Jeevanadata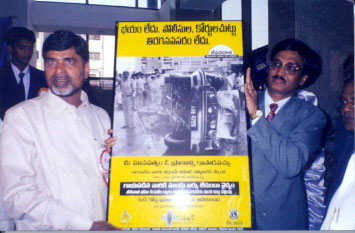 "Jeevanadatha is a bold step. It requires grit and courage on the part of a corporate hospital to venture into such a programme. " - Mr.N.Chandrababu Naidu, Chief Minister of Andhra Pradesh.
Jeevanadatha is an innovative social programme to save the Road Accident Victims. The Victims shall be given immediate treatment without any payment. Focus is on early treatment for accident victims so that many lives can be saved & disability is prevented. The victims need not pay any expenses from their pockets as they wil get compensation from the concerned Insurance Companies which insured the vehicle involved in the accident.

The statistics on Road Accidents are deeply disturbing - most of the victims are innocent pedestrians, cyclists and scooterists, under 45 years of age, most of them only bread winners of their families.

Many deaths can be prevented if the treatment is initiated in Golden Hour, i.e., the first hour after the accident.
Frequently Asked Questions about Jeevanadata
1.What is Jeevanadatha?
2.When was it started?
3. What are the benefits?
4. Who are the beneficiaries ?
5. What is the meaning and importance of Golden Hour ?
6.What are the eligibility criteria for treatment under Jeevanadatha ?
7.What are the exclusions ?
8.What is the Hit and Run case? How can the victim be treated?
9.Who pays the hospital bill ?
10.Will the victim get compensation for his disability or injuries ?
11.What is the procedure for claiming ?
12.Who will give medical service ?
13.Who will give legal services ?
14.What is a Medico Legal case ?
15.What are the advantages to the insurance company ?
16.What are the advantages to judiciary ?
1. What is Jeevanadatha?
A. Jeevanadatha is a programme to save road accident victims. The victims will be given immediate medical treatment without any payment. (Treatment now payment later through the insurance claim compensation). The focus is on early treatment for accident victims so that many lives can be saved, disability is prevented by providing advanced medicare.
TOP


2.When was it started?
A. Jeevanadatha is a innovation for a social cause to offer benefits of advanced medicare to the road accident victims. This innovation is a reflection of the creativity of the CDR Hospital team led by its founder Dr.C.Dayakar Reddy. Jeevanadatha was inaugrated by our dynamic Chief Minister, Sri. Nara Chandrababu Naidu on the World Health Day, the 7th April,1999.
TOP



3. What are the benefits?
A. Jeevanadatha covers hospitalisation expenses including bed charges, investigations, operation charges, medicines, doctors fee etc., almost everything except food charges, telephone, charges etc.
TOP


4. Who are the beneficiaries ?
A. Any road traffic accident victim. One need not be a member of CDR scheme or health plan or even have any insurance policy.
TOP


5. What is the meaning and importance of Golden Hour ?
A Golden Hour is the 1st hour following the accident. If the road accident victim is brought within Golden Hour (i.e., one hour of the accident) most deaths can be prevented. This is more relevant in Head injuries and Poly trauma involving multiple organs of the body.
TOP


6. What are the eligibility criteria for treatment under Jeevanadatha ?
A. All the road accident victims who can make available the following valid documents are eligible:
I) Copy of the First Information Report containing injured persons' name.
II) Valid driving license of the driver of the accused vehicle. (in any case of collision by two vehicles both the drivers license and the vehicle's RC book copy, as well as valid insurance policy copy.)
III) Insurance certificate or policy relating to the insurance of the Motor Vehicle against the Third Party risk.
IV) Registration Certificate of the Motor Vehicle involved in the accident.
TOP



7) What are the exclusions ?
A. Hit and Run Accident caused by uninsured vehicles/unidentified vehicles etc.
TOP


8) What is the Hit and Run case? How can the victim be treated?
A. Any accident due to unidentified vehicle is a hit and run case. Under Solatium scheme a victim with grievous injury under hit and run can get a compensation of Rs12,500 from United India Insurance. This can be sanctioned by the district collector. Beyond Rs12,500 a victim has to pay for the drugs, disposables, implants and any special investigations.
TOP


9. Who pays the hospital bill ?
A. The hospital provides credit to the eligible accident victims. Hospital assists the victim to get adequate compensation apart from the treatment bill through motor accident claims tribunal recovering from the Insurance Company who has insured the accused vehicle. The accident victim need not incure medical expenditure from his pocket if he/she fulfills Jeevandatha eligibility conditions.
TOP


10. Will the victim get compensation for his disability or injuries ?
A. Yes, the victim gets adequate and appropriate compensation for the disability or injuries against the compensation under the following heads :-
1. Shock, pain and suffering, loss of amenities of life.
2. Injury itself, depending upon the disability, permanent, temporary, partial or complete.
3. Medical and incidental expenses subject to production of accident bill,
4. Loss of income till the date of petition and from the date ofpetition till the date of award and future loss.
5. Loss of earning capacity, having bearing on item No.4.
6. Shortened life expectancy.
7. Loss of prospects of marriage, avocation education, social, economical, cultural and political opportunities.
8. Loss of beauty or deportment due to disfigurement.
9. Disability, both physical, mental and social.
10. Medical expenses towards future treatmeent if any.
11. Loss of property during the accident and
12. Any other item depending upon the facts and circumstances of each case.
TOP


11. What is the procedure for claiming ?
A. By filing a claim petition for the various aspects as mentioned in above question 10, before Motor accident claims tribunal which shall proceed to award a claim on the basis of:
I) Registration Certificate of the Motor Vehicle Involved in the accident.
II) Insurance Certificate of Policy relating to the insurance of the Motor Vehicle against the Third party risk.
III) Copy of First Infonnation Report.
IV) Post-mortem certificate or certificate of enquiry from the Medical officer, and
V) The nature of the treatment given by the Medical Officer/Hospital who has examined the victim supported by the medical bills.
TOP


12. Who will give medical service ?
A. CDR Hospitals will give full treatment while the listed accredited hospitals all over Andhra Pradesh will provide first aid and transfer the victim to the nearest CDR hospital.
TOP


13. Who will give legal services ?
Pioneer Legal Aid Services (PLAS) will provide legal assistance all over Andhra Pradesh through their counsels/advocates. PLAS provide all types ofl egal services for assisting the victim/claimant to receive adequate compensation through MACT/Lok Adalat through their legal experts. The victim need not incure any court fees and advocate fees etc and need not run around. PLAS charges 15% service charges covering all aspects.
TOP


14. What is a Medico Legal case ?
A. Any injury due to un-natural causes like road traffic accidents, burns, poisoning, accidents while working, assaults by another person self- inflicted injuries and due to suspicious circumstances. Which requires information to police for filing the FIR.
TOP


15. What are the advantages to the insurance company ?
A. The advantages to the insurance company :
1. No investigator need be appointed to collect the documents relating to the claimant.
2. No Advocate need be engaged on behalf of the Insurance company to represent the case of the insurance Company and the officials themselves can effectively, deal with the case across the table, as per the guidelines of G.I.C. "Jald Rahat Yojna" settlenlent of injury claims.
3. The monitoring of cases due to delay in judicial process can be avoided.
4. There will be saving of interest paytnents on the claimants amounts.
5. There is no scope for bogus/exaggerated claims which has become a bane for the insurance company.
6. The burden of the insurance company in respect of all the claims is lessened due to saving of the lives and disabilities of the victim due to timely intervention through advanced medical aid otherwise the victim would have either died or permanently disabled. The classic example is that during last one year we attended 1102 victims of which only 22 are dead. More than 400% do not have documents hence have not filed any claims.
7. Reduces legal fees expenditure if the claims are settled through Jald Rahat Yojana Scheme.
8. Reduces the pressure of the courts and also time of the insurance company to appear in the courts and working manhours saving.
9. Avoids unwarranted litigation and investigatory expenses.
10. Accountability and responsibility in the genuineness, since all cases are compromised and interest and compensation burden is reduced.
TOP


16. What are the advantages to judiciary ?
A. The advantage to judiciary are :
1. Legal system; The pressure on the courts is reduced through the recourse of Jald Rahat Yojana Scheme. The trend of the motor accident claim tribunals is to suggest other conciliatory system in settlement.
2. Delay in the judicature is resulting in huge workmen compensation due to interest & legal fees.
TOP