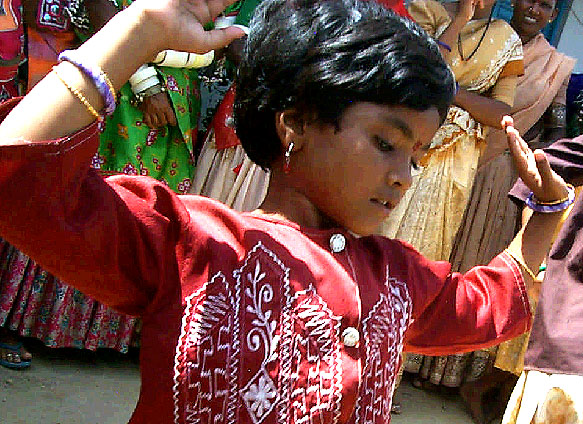 PEOPLE & CULTURE
Unofficial name of Mahabubnagar is palamoor. Mahabubnagar the southern district of Telangana, have been ruled by Muslim kings for the last six hundred years. Though there were reputed sansthans like Gadwal, Wanaparthy, Kollapur, Amarchinta etc with leaders like Bregadiar Raja Rameswar Rao (whose regiment later became the famous 'Second Lancers' in Nizam's army), they have simply collected taxes by sucking the blood of poor people of palamoor to impress Nizam and develop Hyderabad for themselves and never cared for rural education or rural economic development. The feudal system under these rulers did not help our society. Today rural Telangana is decimated for lack of economic development. Instead of unite and fight for justice, Telangana people are divided on Caste and are prone to outside exploitation. The Naxalite violence in this region is one such good example. Though the world's civilization advanced dramatically, most of our village people are still living like the way people lived 2000 years ago: bullock carts, ploughs, carry weight on their heads, mop the floors with hands etc. There is very little change in their life style. After independence there were number of reputed politicians represented from this land to lok sabha, rajya sabha, state assembly and became ministers. Most of them were selfish, corrupted and never attempted to develop the most backward palamoor.
People of palamoor are very cool and hard working and majority of people's lifestyle is still comparable to slavery. Because of lack of proper employment and resources, severe draught conditions in the district, palamoor people tend to migrate to other places in India, thus became popular as palamoor labor in all over India. Despite the Krishna and Tungabhadra and 12 other rivulets flowing through here and the Jurala priyadarshini project, it has been chronically drought-prone. As a result, migration is a way of life for its people. Hargopal, member of the Committee Against Famine that has studied the drought situation in palamoor, says between 10-15 lakh people - "the largest migration anywhere in the world" - go out in search of work. The suicides here (Gangapur village witnessed five in one month) are driven by migration for jobs, finding no work and returning to commit suicide. The lack of rain (In the year 1999, 458 mm rainfall received which is 45 per cent deficient) forcing farmers to consume pesticide when they cannot repay the loan taken to invest in bore wells that do not work because the water table and the power voltage is low.
Hargopal says the district has deliberately been rendered backward by the politicians. "Most Mahabubnagar politicians began life as labor contractors and were involved in labor export." Unlike in other Telangana districts like Warangal where the youth spearheaded movements focusing on the people's problems, here the migration has led to problems remaining unarticulated. There are few industries. Even those that exist, have not encouraged the hiring of local labor though labor from Palamoor in this district is reputed for good work and is much sought after in construction work in most parts of the country, including the north India.
Click here to read paper on Palamoor labour
People and Culture
| | | |
| --- | --- | --- |
| Boy-dances Lambadi Dance | | |
| Girl Dance | | |
| | | |
| Youth | | |
| Rural Children | | |
Social Conditions and Environment (Case study)
Example of village VEMULANARVA which is comparatively in better conditions, in the Mahabubnagar district. (Source: Jyothi.Org)
Location:
Vemulanarva, Keshampet Mandal, Mahboobnagar District, Andhra Pradesh
Story through Pictures
| | |
| --- | --- |
| Women at the water pump | Surviving on Chilli Tamarind and Rotte |
| Collecting firewood | Children of Vemulanarva |
| Girl with lice comb | Harvesting |
| Streets | Roads |
| Woman drying rice | Morning doings |
| Open sewer system | Woman grinding Chilli |
The village Vemulanarva is situated in Keshampet Mandal which is a part of Mahboobnagar District. The village have approximately 2000 inhabitants who all live of the land either as farmers or as farm workers.
Current Conditions:
A rural backward area with hardly any industry, which is classified by the Indian Government as a high-risk drought area.
Population:
Approximately 1800 inhabitants. The community consists of mainly SC (schedule caste or "untouchables"), BC (backward class) and OC (other castes - so called, higher castes). Lambada tribes are living in so called thandars (tribal living quarters) three kilometres from the village
Number of schools in Vemulanarva:
1 state school, 8 classes and 1 Anganwadi Centre (A.P. Government pre-school).

Occupations:
Small crop farmers or agricultural labourers

Income:
For male 30 - 40 Rupees per day (7,5 hours) For female 20 - 30 Rupees per day (15 hours including household chores)

Availability of labour:
Labour is seasonal and only available 60 - 70 % of the year.

Limitations:
Labourers without any land, they depend completely on employment from the landowners. People with 1 or 2 acres of land can grow at most one crop of Jowar (cereal) a year during the rainy season, because they do not have a natural source of water, or bore-well.
Parents' Attitude to Change:
Parents are skeptical of social change because of their low evaluation of their own status and their fear of the landlords' disapproval - and also their own peer group's criticism.
Learning self-respect, courage and overall social development and independent thinking are discouraged.
The parents are discriminated against by the upper class in the following ways:

a) they are not supposed to sit on chairs in front of landlords
b) they are not supposed to wear sandals in front of landlords
c) they are not supposed to speak freely and first to landlords

Parents who are belonging to SCs (schedule caste) are not supposed to eat at the same table with the so-called higher castes. People who dare to stand up to the harassment face the threat of unemployment.

Housing conditions:
Most of our parents are living in simple one or two room solid stone houses without ventilation, water or a latrine. They cook inside the house on an open fire and the smoke collects under the roof and escapes slowly through the tiles. No house has an effective kitchen garden. The surroundings are dirty and there is no provision for organised and environmentally safe disposal of garbage. Some of our parents are living in a one-room hut with a thatched roof.

Children: The age group of the children:

The children will be in the age group of approx. 3-6 years and girl children will be favoured in a ratio of 75/25 % girls/boys.
The children's psychological condition is mainlydetermined by the conditions of their parents. The lack of self-respect in their parents, due to public harassment which the children also experience, reflects in their own behaviour. The children are shy and unable to express themselves and their needs. They show all symptoms of neglect.

Food:
Nourishment for the parents of the children consists mostly of insufficient carbohydrate provided by rice (hamsa) or insect-infected ration card rice from the state.. Vegetables are mostly "organised" from the fields or purchased only when they are very cheap. Mostly people eat ground chilli in order to give the last bit of rice some taste. Protein is very rare in their diet and eggs are seldom eaten.

Family care:
Care for old people in the family is mostly limited to a meagre food supply. Lack of money creates a feeling that old people are only a burden on the family. They are often only dressed in dirty rags. This applies especially to people who need extensive care.
Parental care for the children at home:
The children are left mostly to themselves during the day, because both parents have to work. This leads often to injuries and accidents. The children are not taken daily for a bath and skin infection is not treated. Parents are keeping their children under control by scaring them.. ("I'll send you to the ghosts!", or, "A God will eat you!", or, "I'll take you to the police!" etc.). Elder children (7 and above) are made to work in the fields with their parents. They have also to do the household chores (taking care of younger siblings, preparing food, fetching water from a distant bore-well, sweeping the house, collecting fire-wood running errands for their elders).Children are not able to go to a doctor. Some go to a local quack or medicine-man when ill. The children are mostly dressed in torn buttonless shirts and shorts, held together by safety pins. They have filthy lice-infested hair and they smell a mixture of bonfire smoke, urine, sweat and coconut oil.
Issues Draught Water Problems Cultures
We would appreciate if you could provide the content for this page. Your ideas and suggestions are most welcome. Feel free to send your comments to info@mahabubnagar.com